Reischach is a winter wonderland! But it's more than that – even in summer, this village at the foot of the Kronplatz in the Pustertal Valley has plenty to offer! Our correspondent Sabine paid a summer visit to private host Andreas Oberpertinger at the
"Ferienwohnungen Andreas"
!
A typical summer's day in Reischach near Bruneck
When you first think of Reischach, you might think of winter, Kronplatz and enjoyable skiing adventures. When in early June I arrive at this little village near Bruneck, however, I am welcomed with abundant sunshine, lush green meadows full of pretty flowers – and I'm greeted by a private host whose tales really whet the appetite for spending the summer in the Pustertal Valley.
Summer's on its way...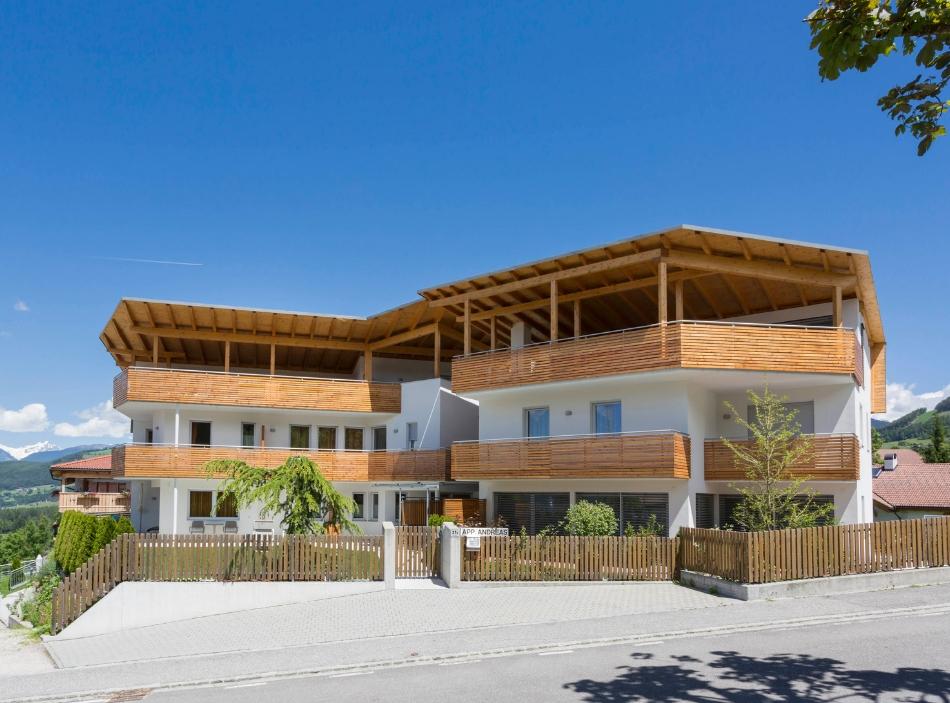 The beautifully maintained apartments run by the Oberpertinger family in Reischach are located at the end of the Burgstrasse, close to the forest. A glance over the garden gate promises a modern, friendly atmosphere.
I am enthusiastically received by Mr Oberpertinger: "Hello Sabine! I'll show you our apartments!" he says and first shows me one of the apartments that leads to a large terrace with panoramic views.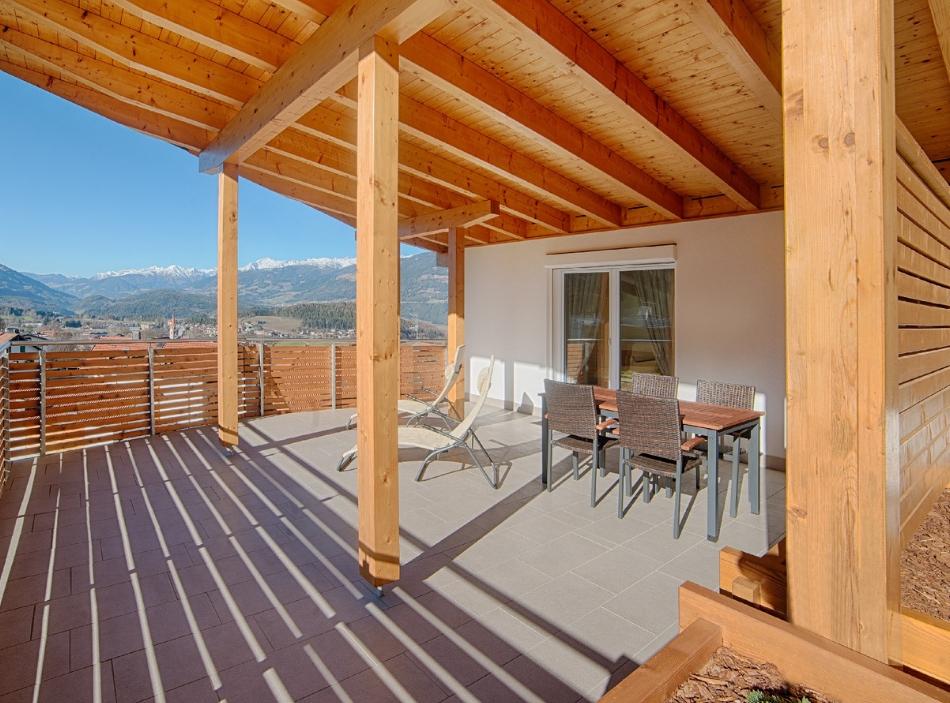 "These vistas and our large covered terraces are the jewel in our crown. From here you can look out over the whole area, up to the Ahrntal Valley, as well as the Lower and Upper Pustertal Valley! Our guests really appreciate that, especially in very clear summer weather like today. Although there is the occasional summer shower or thunderstorm, the terrace can still be used – which our guests love to do!" I can just imagine – I even catch myself dreamily gazing into the distance.
"What does Reischach have to offer when the sun isn't shining?" I ask. "Oh, there's plenty to do... We are for example a partner of
Cron4
, the Pustertal Valley's very own wellness paradise, with its outdoor swimming pool, indoor pool and several saunas. You can also stroll around the shops in Bruneck in bad weather, as there's lots going on in our beautiful little city! There's also a great indoor climbing wall." Those interested in culture can also visit the Messner Mountain Museum, "Lumen", the new Museum of Mountain Photography, or the Folk Museum, he adds.
Summer hiking...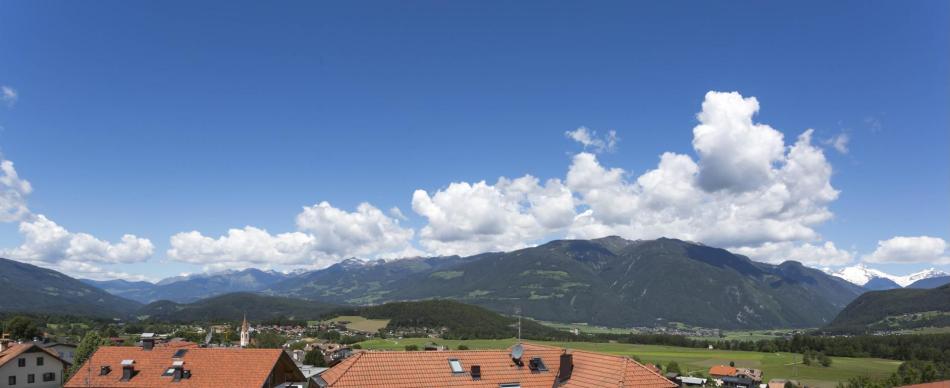 But back to the outlook for summer, and of course wanderlust! Andreas's apartments make an ideal base for wonderful family excursions, a clear reason why Reischach is so popular during the summer months.
As our host explains: "There is a panoramic trail starting from here, with several variants: one leads to the Kneipp path, which is of course a special attraction on a hot summer's day! There are also popular routes to Bruneck and the Kappler Stöckl, as well as the trail via Stefansdorf towards Haidenberg. Percha and Olang too can easily be reached on foot."
If you do not want to explore the area around Reischach on your own, the
Kron Aktiv
tourism association offers weekly guided hikes, herbal walks and Alpine tours, as well as bike tours, freerides and a programme for kids and youngsters.
…and biking!
…Saddle up, because it's time to get on your bike! :) Andreas Oberpertinger has six modern E-bikes available for hire. "We even have our own small bike workshop", he tells me proudly as we descend two floors. I am truly amazed by his well-equipped mini-workshop, not to mention the large underground car park where it is located. "Each apartment has its own private parking space down here!" Underground parking, bike shop and washing facilities – it's all pretty impressive here in the basement! :)
Other summer activities that visitors to Reischach can enjoy include a round on the village golf course, as well as the high ropes course in the nearby village of Issing – an adventure that should undoubtedly be combined with a dip in the Issinger Weiher, a natural swimming lake! :)
The guest is king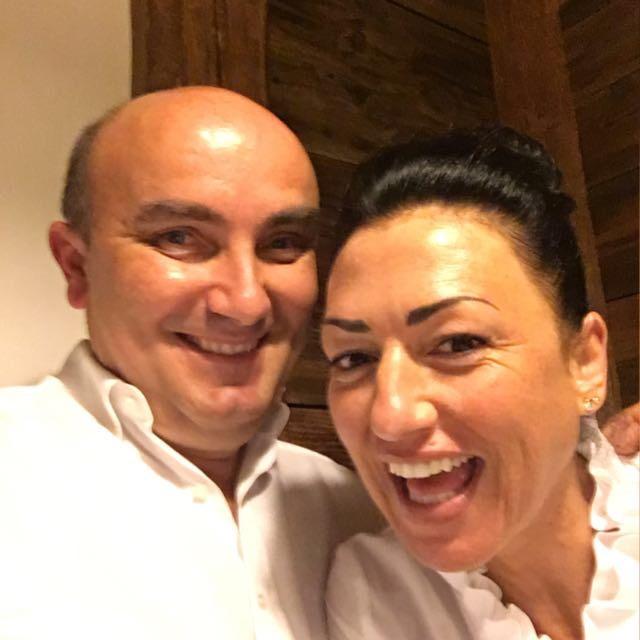 Since 2011 Andreas Oberpertinger and his wife Astrid have throughout the year been renting out their four apartments, each accommodating four to five people and, as I've already seen the first apartment, I now get to see the other three alone. :) Three of them have a terrace: the ground floor apartment opens directly onto the garden. All is spacious and bright and each apartment has a fully equipped kitchen, air-conditioning & ventilation and underfloor heating to Climate House A standard. The little ones too are of course catered for, with cots and highchairs on request.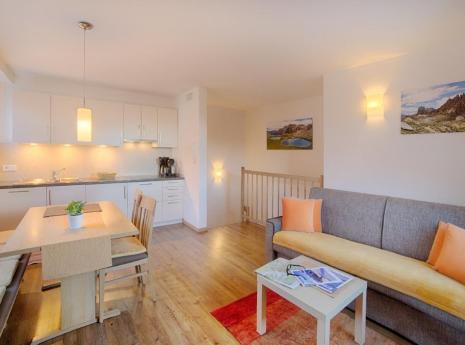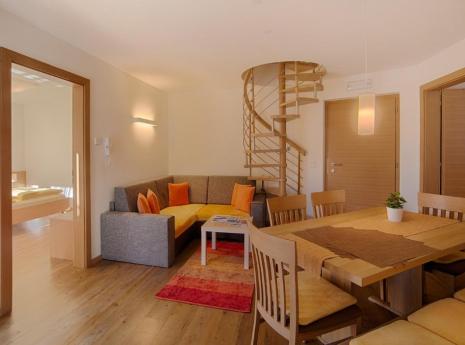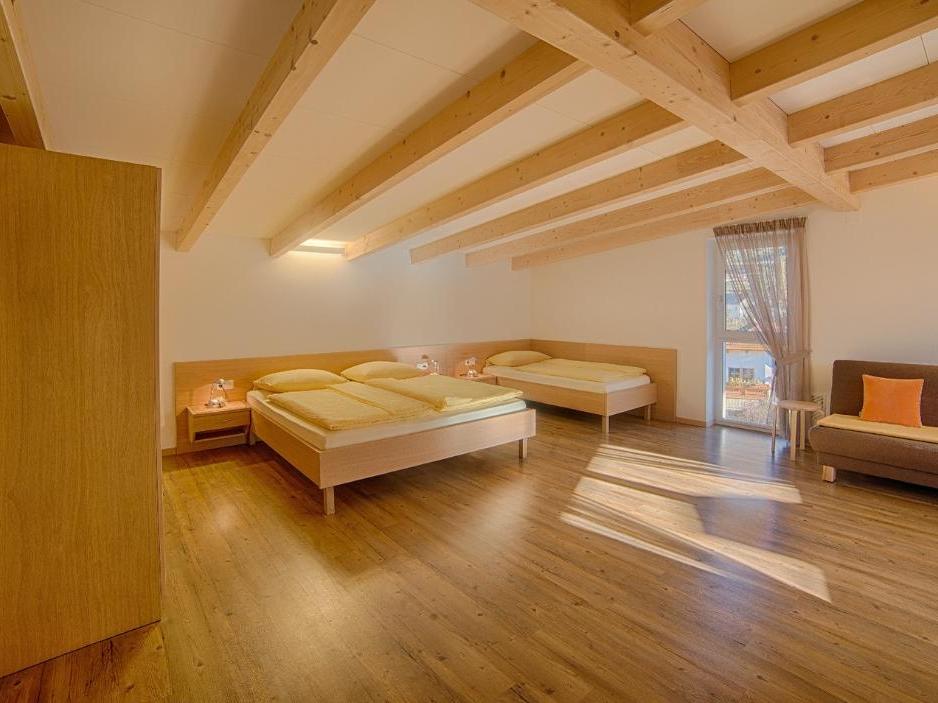 And, speaking of requests, there is a barbecue available in the garden for the use of guests, and fresh bread rolls can be delivered to those who wish. There is also a laundry room with washing machine and tumble dryer. For any other questions the hosts themselves are always ready with an answer – for example as regards suggestions for restaurants, outings or local attractions. For the Oberpertingers it is very important that their guests feel that they can always see them and that they of course feel welcome from the outset. In the words of Andreas: "Personal, individual advice, tips and little tokens of appreciation are very important to us. We sometimes even pick up our guests from the train station!", he says.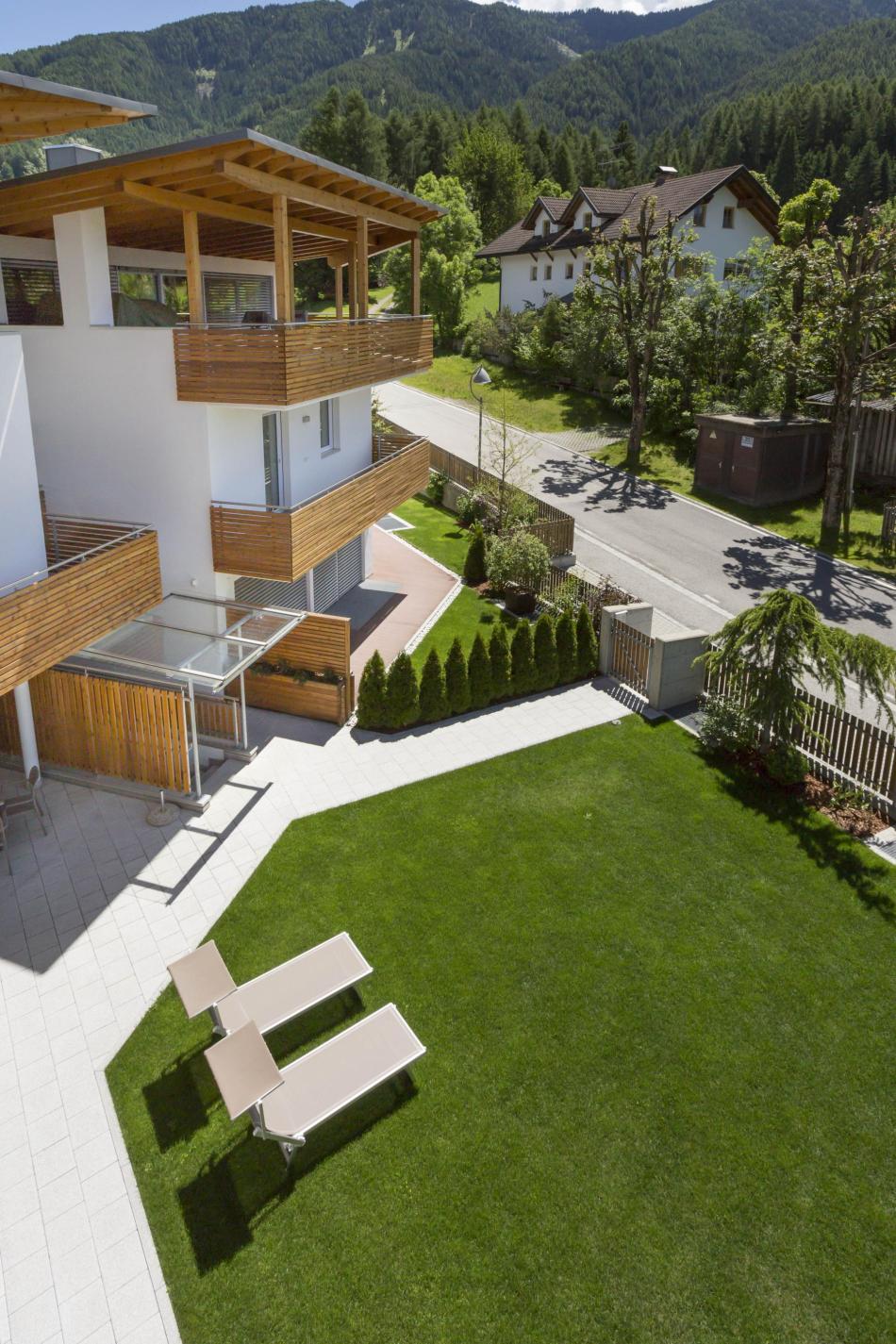 Straight out of a picture book
Yes, I know it sounds corny, but a summer's day in Reischach with the Oberpertingers is a bit like something out of a picture book – a genuine postcard idyll. ;) Biking or hiking during the day through the impressive natural world of the Pustertal Valley... before going home with the children and visiting one of the nearby playgrounds... then a relaxing barbecue in the evening in the garden or savouring the quiet prospect from the terraces. "We don't have summer days here when the heat is really unbearable. The temperatures are always ideal", the landlord enthusiastically tells me. You can enjoy a pleasantly warm breeze before going off to bed. That's how it is, in the middle of summer in the middle of Reischach, at the end of the Burgstrasse.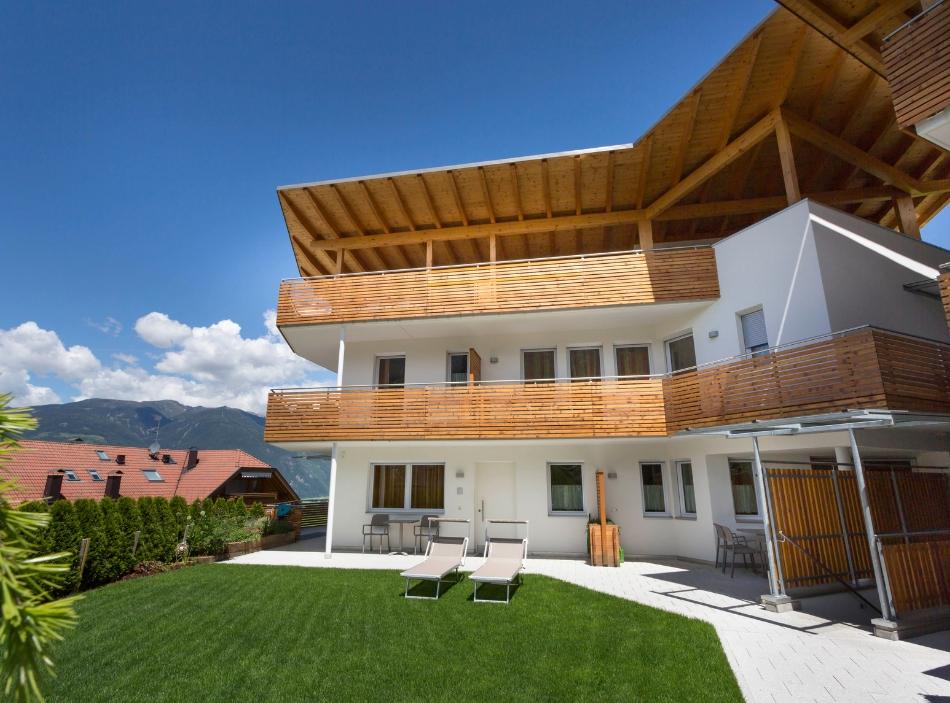 Do you too fancy a holiday in the
apartments run by Andreas Oberpertinger
? No problem! Simply click
here
! :)
With
heartfelt
greetings,
Sabine