At Home in Nature
Mother nature truly blessed South Tyrol with beautiful landscapes – so much, that sometimes I find it truly difficult to pick a destination. You probably know the feeling. ;-) Today we direct our attention to the East where we'll find a couple of particularly nice spots for spending time outdoors in the summer – and feeling at home at the same time. Here are my best 'Living Outdoor' tips for the charming Puster valley.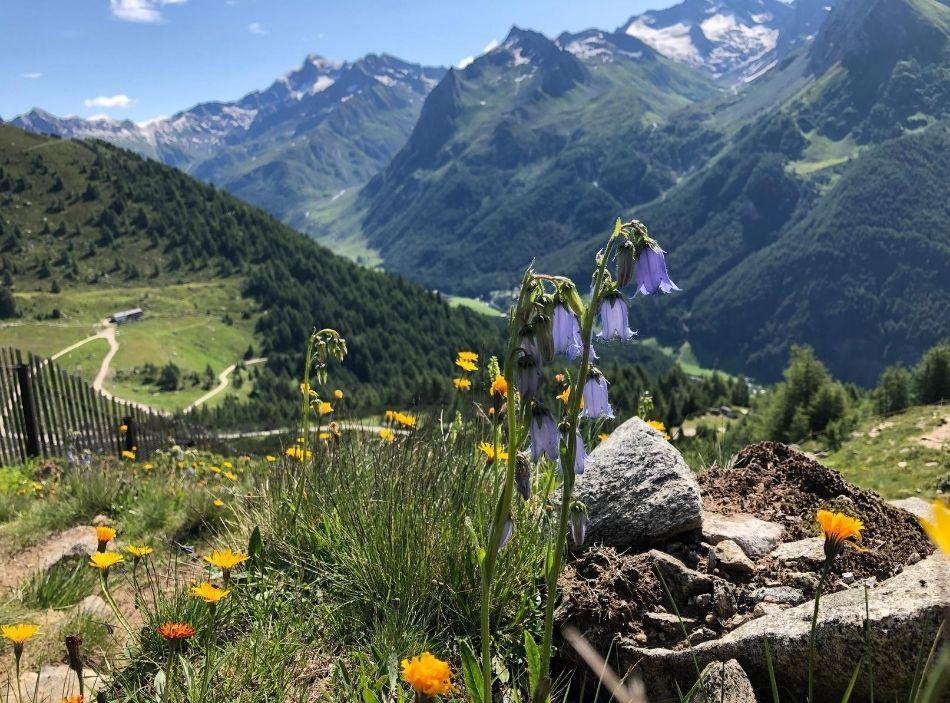 Eating Outdoors
Hiking through the green and pristine landscape of the Puster valley, past soaring mountain peaks vanishing in the clouds, inhaling the fresh air, and just being on one's own – nature's most beautiful places are always an invitation to linger. And a pick-nick is probably the most relaxing outdoor experience of all. Not only is it up to you WHEN and WHAT you are going to eat, but also WHERE! For those of you out and about with kids, an al-fresco meal offers a lot of perks: No fixed restaurant times, no table reservations and far away from all the humdrum, you will enjoy your meal twice as much – no sitting quietly at the table will turn it into a very relaxed experience! During longer hiking trips, like the three-hour round-trip to the Stumpf- and Kaseralm mountain huts, the promise of a nice snack break may well motivate the brave little mountaineers to continue the ascent. Starting and finishing in St. Magdalena in the Gsieser valley, the path will first take you through the woods and then past blooming mountain pastures. Here, everyone will find a spot to snack (and rest!).
Also Sexten, Innichen and the pristine Ahrntal valley with its more than 80 (!!!) mountain peaks exceeding 3,000 metres invite you to hike and, of course, pick-nick.
If you don't have the time or the inclination to prepare a pick-nick basket yourself – no problem at all! Several restaurants like, for example, the Tilia in Toblach offer pick-nick baskets, packed and ready to go. Just relax on the conquered mountain tops, in a shady forest, or on flowering mountain pastures and enjoy the bites in peace and with no fuss. ;-)
Exercise outdoor
Your apartment is something out of heaven. You can chill in your bed, go over to the sofa and carry on relaxing there. However, let's face it: Even the snuggest of people can sometimes get cabin fever at home. If you also crave more action, take a trip to the
Adventure Park Toblach
! This high rope course with 13 courses ranging from beginners to expert levels will get you to dizzying heights – take your pick. Does the thought of climbing make you uneasy? Just stay grounded and rather go on a breezy bike tour. The Puster valley is popular with cyclists and there are plenty of bike rentals. Look for the closest rental place and off you ride!
Those who like it spontaneous and relaxed can grab a volley- or football for a quick match outdoors – sometimes the simple things are best.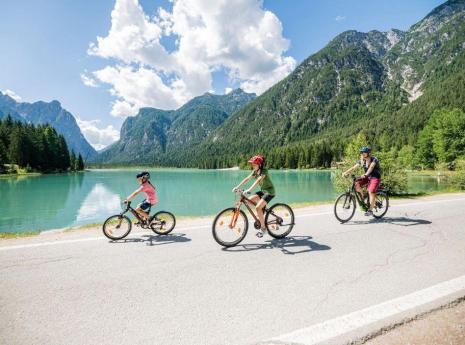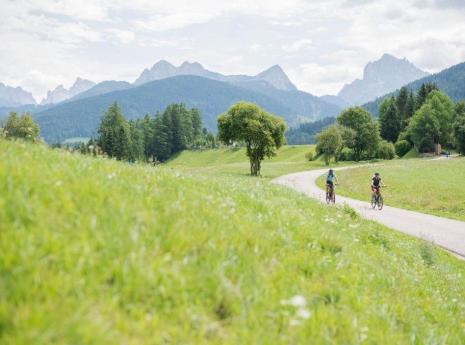 Watching Films Outdoor
What's more chill than a movie night together? Correct: a movie night together and outdoors! :-) The youth and cultural centre
UFO Bruneck
offers Open-Air-Kino during July and August. On Tuesdays and Thursdays people of all ages get together in the Naturarena and enjoy an easy summer's movie night together. And it's all free.
Speaking of a cinema that is free of charge: The Dolomites – declared UNESCO World Natural Heritage – form a mountain backdrop which takes my breath away every single time. Those of you who dare setting out on the hike to the towering Three Peaks (Drei Zinnen) or the imposing massif of the Heiligkreuzkofel, will see for themselves.
So, what are you waiting for? Grab your favourite snacks and refreshing drinks and hurry to a movie adventure beneath a starry night sky or a top-notch natural cinema. ;-)
Swimming Outdoor
A warm bath always makes me feel safe and home. In summer, especially during the hot day hours, I don't mind a bit of cooling off. And what makes a better refreshment than leaping into one of the numerous lakes of the Puster valley. But caution! The strikingly beautiful waters of the Puster valley often come with tinglingly cold temperatures. Get ready for a proper portion of freshness all you bathing beauties and mountain lake divers!
One of the most widely known destinations is the Pragser Wildsee which is accessible by car or conveniently by the specially provided shuttle service. Please note that the seats in the shuttle need to be booked online and the road will be closed for cars once the parking spots in the valley are full. For hikers and bikers, there are no limits.
Once arrived, I recommend a walk around the lake with a finishing dip into the refreshingly cold water. For those of you who prefer to be on the cyan water, boat rental is available to enjoy the picturesque scenery. Well, that's a bathtub out of the ordinary, don't you think? ;-)
If you prefer a more remote destination, the waters up the mountain, like the Grünbachsee lake in the municipality of Kiens will suit you. At 2.258 sea level, this idyllic mountain lake is accessible only by foot and therefore will be less bustling. The Antholzer lake, with a water surface of 44 hectares, is the third biggest mountain lake in South Tyrol, and the Kompfoss-See lake, at 2,500 metres a. s. l. are worth a visit as well.
If you're looking for a fun bathing experience, you should visit the Issinger Weiher. This pond/ biotope boasts a water fountain, a slide, as well as a playground; and you can rent sun loungers and sunshades. As you may have noticed, there are plenty of bathing opportunities in the Puster valley. Whether you are dabbling in the Pragser Wildsee or have an invigorating dive in a mountain lake, it will be an outdoor bathing experience to remember – no doubt about that!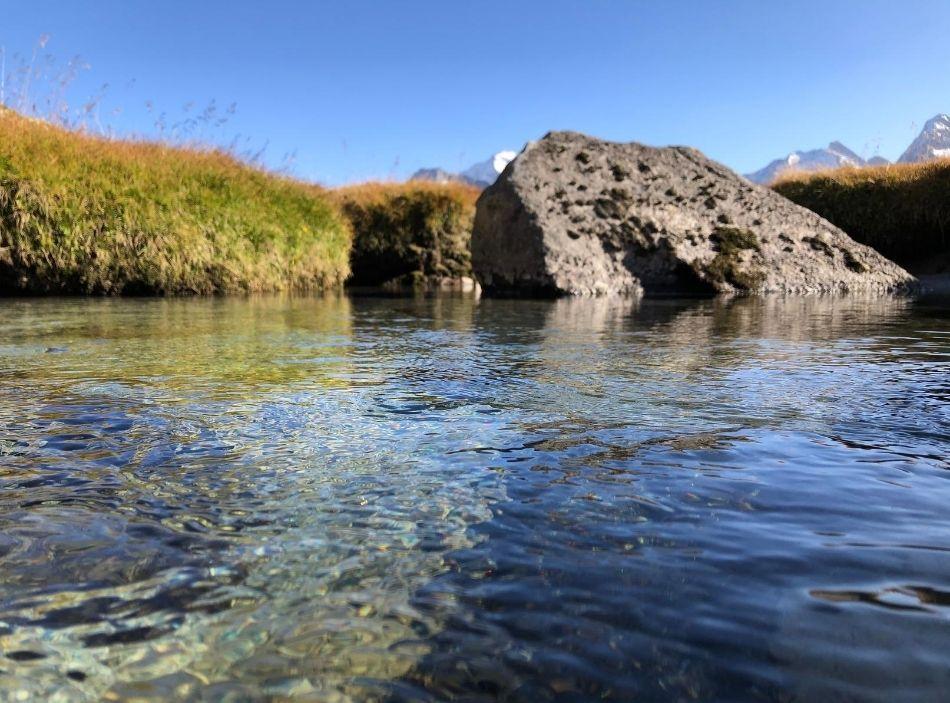 On the Off Chance of Rain?
Well, there are a few things to do and experience: Bruneck and surroundings offer museums which combine the in- and outdoors, nature and architecture and will let you marvel and learn something at the same time. I am, of course, talking about the two museums located in the Puster valley: the
Messner Mountain Museen
and the
Lumen
at the peak of the Kronplatz mountain which dedicates its exhibition entirely to mountain photography – creatively and fascinatingly.
These are my tips for spending time outdoors in the beautiful Puster valley. Grab your pick-nick baskets, ramble about the streets, dip your toes into refreshing mountain water and relax in the open-air cinema. I promise you, when you make nature in South Tyrol your home during the summer months, you will have experiences that will stay with you.
With
heartfelt
greetings,
Sabine